Tell us a bit about your journey to becoming an Insider?
Several years ago, I founded a research and advisory firm that focused on the energy, mining, and agriculture sectors in frontier markets. A lot of our research focus and client base were in African markets, so I had the privilege of learning all about the economies, people, and history of the vibrant continent. One of the services my firm offered was PR because we saw the same problem that Insider directly addresses: you cannot invest in what you cannot see, and companies in emerging and frontier economies need their stories told in order to attract investment.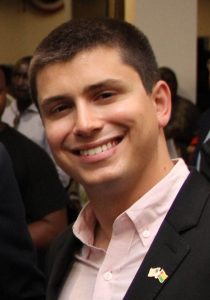 I connected with Aubrey Hruby, Insider's co-founder, and initially started writing for Insider as a way for me to stay engaged with what I love doing: writing, research, and telling stories. As I got to know Aubrey and the firm, my role expanded and now I am proud to be serving as Insider's Director of Operations and Finance.
What does a typical day at Insider PR look like & highlight your best experience so far?
I wear two caps at Insider: Director of Operations, but also Account Manager. My typical day then usually starts with checking in on the team and each Account Manager to see where they need support. Then, I work on deliverables for the accounts that I manage. This typically involves drafting branded content that discusses why solar, for example, works for small businesses in Africa. I am happy to be managing Insider's renewable energy clients — a sector that I am passionate about. The sector is everchanging, so I frequently have strategy discussions with my clients to discuss how we want to position their companies in the long term.
One of my highlights to date has been working with Salma Okonkwo, an independent Ghanaian renewable energy developer, and seasoned energy executive. Salma used to run the first fully integrated African oil and gas (O&G) distribution companies and is now doing renewables. Her story, both as an executive transitioning from O&G to renewables and as an African woman raising capital in a male-dominated industry, is truly inspiring. Getting her on global stages like the recent Reuters Responsible Business Summit has been a great experience.
Based on your insider knowledge, which sectors or ideas are you most excited to see develop over the next five years?
Getting urbanization right in emerging markets, especially African megacities, is a key trend for the future growth of many sectors. This is because urbanization touches on so many key development themes: the decline in agricultural productivity associated with the decline in rural population, the weak urban planning of cities which gives rise to the rideshare economy, the concentration of emissions in megacities, and increasing deforestation as cities expand, just to name a few. I will be watching intently to see how entrepreneurs and policymakers adapt to urbanization over the next five years. There is great potential to get things right and for countries to benefit from the increase in economic growth that comes from productive cities.
How do you think the PR industry is changing and adapting to the current global landscape?
PR is becoming more global. In some cases, it is no longer sufficient to distinguish yourself or your company in your country's market: you have to think regionally and then globally. There are international venture capital firms and investors, for example, that won't just be comparing a Kenyan startup in one sector to other Kenyan startups in that sector. In today's information age world, there is nothing stopping a VC from comparing a Kenyan rideshare company to a Mexican one, for example. As emerging markets like those in Africa get more attention as PR services and availability expand throughout the continent, those markets are now on a global stage and are therefore measured against their intentional peers. Companies must approach PR with this global perspective.
What one thing you learned about yourself during the lockdown?
I have come to really appreciate the immense value of nature. Before lockdown there was a lot to do on a weekend: one could go out to dinner, go to a concert, or go see a movie, for example. I was in a rural area of the US for lockdown, though, so all there was to do was enjoy walks, hikes, or just sitting outside on a nice day working or reading. I've learned that I am fine with this and really do enjoy and appreciate being outside — even if I am outside with nothing to do!
If you could sit down to dinner with any celebrity/thought leader (dead or alive), who would you pick, and what would you discuss?
Probably Lee Kuan Yew, the former Prime Minister and founding father of Singapore. Lee transformed Singapore from a literal colonial backwater into a developing and then developed country with low unemployment, low corruption, and a strong social safety net. It would be incredible just to hear him talk about the policies he implemented to drive Singapore forward.
What's your hot tip for businesses and brands considering PR?
We here at Insider say this all the time: PR is not marketing. I highly recommend they read our last Insider Insight piece on that topic. That is my tip, though: constantly reassess whether your business needs PR or marketing at any given point, invest in both, and don't get the two confused. Marketing has its place for selling products and signing up new customers, for example. PR, what we do here at Insider, is about elevating your company as a leader in your space, and companies must give that effort its own attention and resources.