Tell us a bit about your journey to becoming an Insider?
I started out my career working as a technical analyst in Ghana's financial services industry. While I thoroughly enjoyed my time in this space, I knew after my 3rd year that it was time to pursue a fresh start.
I moved to Boston to do a masters in International Business and was introduced to Aubrey (insiderPR's co-founder). Speaking with her and learning about what insiderPR does was exciting but also nerve-racking; mainly because I had no prior experience working in PR or comms.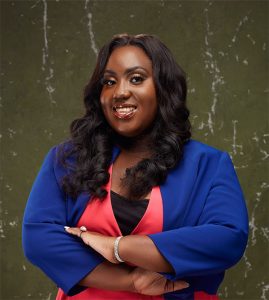 It's been 18 months since I joined the company, and I am proud to say that I work with some of Africa's most innovative minds, and also of my career growth from intern to associate and now to managing my own tech client. insiderPR for me is and will always be a place that identifies potential and places value on development for staff and clients
What does a typical day at Insider PR look like?
My work largely focuses on getting clients speaking engagements at high level conferences, webinars and podcasts.
A typical day usually involves anything from creating curated event calendars, pitching panel and topic recommendations to event organizers, and also supporting all backend logistics necessary for the client's speaking participation.
Internally, I also manage the events section of our monthly newsletter, and this requires keeping daily tabs on leading tech, energy and investment conferences happening in Africa and across the globe.
Aside from events, I work with the team to secure media, award & fellowship opportunities for our clients and keep track of all wins in our database. I also recently added client management to the list.
What industry are you most excited to see develop over the next 5 years
I'm excited to see the future of Africa's Gaming industry. There is a huge gaming community on the continent, and this billion-dollar industry, though young, boasts an impressive CAGR projection of 12% between 2021–2026. In addition, because of Africa's large youth population size, this industry will serve as a catalyst that propels the next billion of Africans online.
On the international scene, there is also a growing appetite for locally produced storylines/content as we are witnessing on streaming services like Netflix. Africa's Gaming industry is poised to be the next sector to profit from this trend.
I look forward to seeing more local game publishers, better representation for women developers, funding to support local developers and studios, and finally how games developed by Africans for Africa are enjoyed by the rest of the world.
How do you think the PR industry is changing and adapting to the current global landscape?
PR practitioners are being forced to rethink social media. With traditional media platforms downsizing and paywalls rising, combined with the ever-growing number of social media platforms, people are increasingly turning to social media for information.
Unsurprisingly, social media use has grown significantly over the last year, and it shows no signs of slowing down. Social media is no longer an optional part of PR strategy, but a must-have. It is an essential tool for anyone looking to build thought leadership, facilitate engagement with other industry players and also puts entrepreneurs on the radar of investors, journalists, potential partners, and talent hires.
What one thing did you learn about yourself in lockdown?
That my parents will forever wonder why I did not pursue a career in Tech and become the next Steve Jobs given my unique I.T skills in knowing how to change a printer cartridge and working the controls in Zoom.
If you could sit down with any celebrity/thought leader (dead or alive), who would you pick, and what would you discuss?
I would love to go for a bottomless mimosa brunch with Taraji P. Henson, and have conversations on all things fashion, skincare and most importantly, about the mental health stigma in black communities.
What is your hot tip for businesses and brands considering PR
Startups need to realize that there is such a thing as being too early for professional PR services. Establishing brand authority in your industry and gaining media attention often requires a viable product or service that has gained some market traction.
Also, PR is usually a long game and requires a few months' commitment to appreciate the results. It can be challenging for early-stage startups to make the financial and time commitment. My advice is for entrepreneurs in this category to start laying the groundwork for larger scale PR by deploying the tools at their disposal, such as Twitter to share educational and interactive brand content and also be a part of industry conversations either via Twitter Spaces or use of hashtags.